Elise White -Bedroom Set, Chest of Drawers, Cheval Mirror, Dressing Table, Mirror, Stool and 2 Bedside Tables
Product code: 3054
6
% Off - Save a total of
£

71.70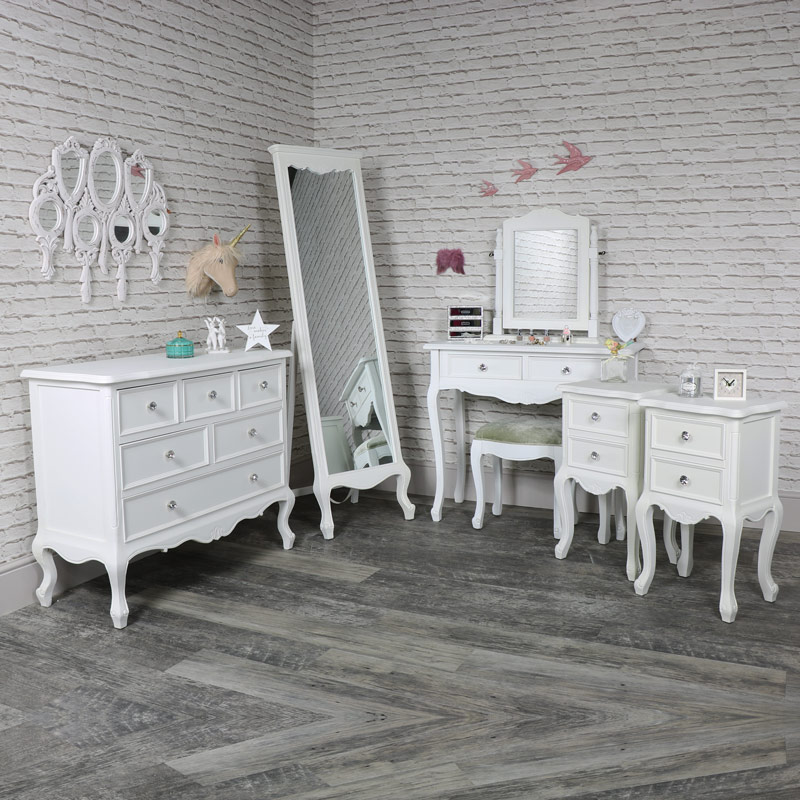 Elise White -Bedroom Set, Chest of Drawers, Cheval Mirror, Dressing Table, Mirror, Stool and 2 Bedside Tables

An elegant white bedroom furniture bundle in a vintage French style, comprising of a Chest of Drawers, Cheval Mirror, Dressing Table, Mirror, Stool and 2 Bedside Tables. perfect for a Vintage chic style bedroom.

With a pure white painted finish, with gorgeous delicate crystal door/drawer handles. A furniture bundle that creates ample of storage space for a French vintage style bedroom and decor. With Swing mirror for better visibility and a padded stool for extra
Description
Elise White -Bedroom Set, Chest of Drawers, Cheval Mirror, Dressing Table, Mirror, Stool and 2 Bedside Tables
An elegant white bedroom furniture bundle in a vintage French style, comprising of a Chest of Drawers, Cheval Mirror, Dressing Table, Mirror, Stool and 2 Bedside Tables. perfect for a Vintage chic style bedroom.
With a pure white painted finish, with gorgeous delicate crystal door/drawer handles. A furniture bundle that creates ample of storage space for a French vintage style bedroom and decor. With Swing mirror for better visibility and a padded stool for extra
Beautiful white bedroom furniture in stunning French style, perfect for creating a bedroom heaven!
Many other items available in our Elise white range
Additional information
Product Range: Elise White
Colour: White
Finish: Painted
Material: Wood / Glass / Fabric
Finish: Painted
Measurements: Width: 100cmcm x Height: 80cmcm x Depth: 40cmcm
Assembly Time: The legs will need attatching to the dressing table