Cleopatra Range
The Cleopatra range is the ultimate luxurious furniture choice. Beautiful mirrored antiqued glass, luxe gold bar handles, and stunning slim metal gold frame - this style is having quite the moment and is here for the long haul.
Read more...
filter (11)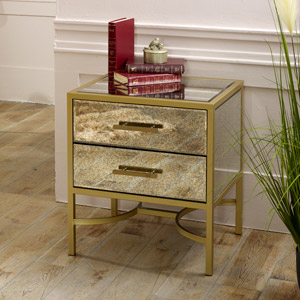 Cleopatra Range

What style is the Cleopatra range?
The Cleopatra is the ultimate luxurious furniture range. Beautiful mirrored antiqued glass, gold bar handles, and stunning slim metal gold frame.
Do you want timeless, Luxe, modern and glamorous? If this ticks all the boxes for your furniture needs then this range is definitely for you!
What room will the Cleopatra range suit?
The Cleopatra range consists of a large chest of drawers, a console table, and a bedside table /occasional side table. The range would be perfect and add a glamorous and stylish touch to your bedroom, hallway, living room, or dining area.
Why choose mirrored furniture?
Buying mirrored furniture can be scary but don't be put off!
Mirrored furniture has its benefits, its main selling point is it can make one of the smallest rooms appear much larger!
Gold furniture is a definite up-and-coming trend for all those who love something a little bit for luxurious and modern. Mixing both the very popular mirrored furniture and gold furniture is a luxe lover's dream!
How to care for your mirrored furniture -
Notoriously unliked for dust, fingerprints and smudges, unfortunately, this cannot be avoided but with these hints and tips, we can make caring for your mirrored furniture much more pain-free without having to have your duster and glass cleaner out several times a day!
Here are a few tips to keep your Cleopatra range sparkling and looking as beautiful as ever!
1. How to clean mirrored furniture - Only use a microfiber cloth and a non-solvent-based glass cleaner. Why? General cleaning sprays can dull a mirrored surface and make it lose its sparkle, the microfibre cloth ensures a streak-free clean and will not leave lint residue.
Tip: Always spray the cloth and not the furniture before cleaning this also avoids streaks!
2. How to stop scratches, cracks, or chips appearing on your mirrored furniture - Unfortunately, you cannot stop this completely with mirrored furniture, but there are ways to avoid it happening.
For example, try not to position your furniture in a place in your home where it is likely to get knocked, so a small hallway for your beautiful Cleopatra console isn't ideal, an open hallway or an alcove would be perfect.
When attaching your handles, try not to over tighten this, heavy-handedness and over-tightening could make the glass crack.
Protect the surface of your mirrored furniture by displaying and placing objects with soft felt pads underneath. Knocking or dragging your decorative accessories across the mirror will easily permanently damage the surface.
3. How to make sure you don't stain your mirrored furniture -
Immediately clean up any spills made on your mirrored furniture. Avoid perfumes, make-up, alcohol-based liquids, and hair dye! Even water could stain your furniture permanently if left for too long! Make sure you clean up straight away and then clean the surface with the above technique mentioned in no.1!