Order & Delivery information for Flora Furniture
EUROPE & NON MAINLAND UK
Please Note:
Please note all furniture deliveries will now be doorstep delivery only. However, the great news is, our home deliveries are all still running on track and you still have 200 days free returns *see the t&c for more info
Delivery information
We pride ourselves on our exceptional delivery service!
Our fully insured delivery drivers are such a lovely bunch, so lovely that our customers even call us on a regular basis just to tell us how amazing they are!
So, if you need to know how your order is going to get to you, here's a breakdown of our frequently asked questions of exactly what will happen
We have pretty much covered it all here but anything you are not sure of, please give, us a call on 01302 741007.
What happens once I have placed my order?
Once you have placed your order, Kathy, our Senior Administrator will process your order for you.
Any out-of-stock orders, Kathy will email you details of likely timescales for delivery.
Most of our stock is held at our Doncaster warehouse. Some items are special order items which we may need to order from our suppliers and may take a little longer.
Will I be given a delivery date?
Once your order is all ready to go, your order will be dispatched one of 2 ways. If it's a smaller item of furniture, it will be dispatched by the next working day courier, and they will text delivery details to you directly, so don't forget to supply a mobile phone number. If it's a larger item, like a chest of drawers, or an over-sized mirror, it will likely be delivered by our own drivers. This usually takes 3-12 days from when your order is in stock. Our distribution team will then contact you to advise the date and time we will be delivering to you.
I need my order sooner; can you get it to me ASAP?
If the item you have ordered is in stock with us, and you need it sooner, or if you need to choose a specific day or time for delivery, please call us, as additional priority services are available for most UK areas at an additional charge.
Please note most deliveries will be by one driver, and they can only deliver to a front door. If you do not live on the ground floor, do not have lift access if on an upper floor, or you require a room of choice service, we may be able to offer this service, but please make us aware at the time of ordering.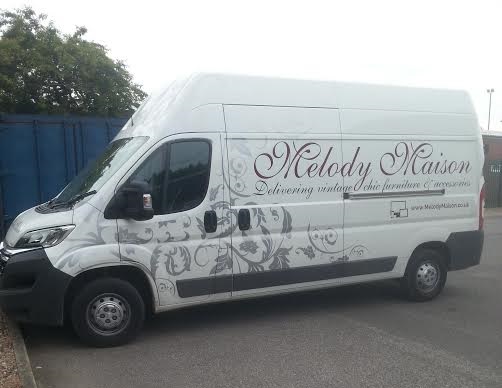 Delivery exceptions
If you do not live in Mainland UK or you live in Scotland, there may be an additional delivery charge. This charge is passed on from our delivery company, we do not profit from it - unfortunately, couriers do charge more to go to these areas. Also, Western Wales, Norfolk, some coastal areas of Kent and Cornwall and Devon, due to the distance from ourselves and the nature of a low number of deliveries to these areas, we may have to outsource your delivery of larger furniture to a third party, which may mean it has to be delivered on a pallet, rather by our own driver. However, they will call you to advise a delivery day and time.
Damage in transit
In the unlikely event that your item arrives damaged, please notify us within 7 days. All our orders are fully insured, and 100% satisfaction is guaranteed and will be replaced free of charge at the earliest possible opportunity.

Please note: if you have goods delivered to an overseas shipper for onward transportation by another carrier, we cannot be responsible for damage caused on their onward journey? Please check your onward courier provides insurance.

PLEASE NOTE WE DO DELIVER 7 DAYS A WEEK - however, we do not deliver to all areas of the country on a regular basis. Other upgrade options are available if you have a preferred day or time - please ask for a quote by email: customerservices@florafurniture.co.uk
Do you live in Ireland, France, Germany, Italy or Spain?
Great News, generally it is inexpensive to ship most of our items to these countries (other than larger pieces of furniture and larger mirrors).
Customs charges may apply when importing goods from the UK, please see your local government guides for details.
Currently, deliveries to the EU are behind and may take up to 30 days for your item to arrive.
Please note certain additional charges will still apply for some orders to non-mainland & hard to reach destinations i.e., Ireland, south coast, and Scotland. This also applies to some larger items of furniture and mirrors to these areas.
We ship amazing items worldwide!
For your shipping cost please carry on through the checkout process, you will see your shipping cost prior to payment.

*Postcodes - AB, BT, DD, EH, FK, G, GY, IM, IV, JE, KW, KY, PA, PH, PO33, DG, TD, ML, KA, a further charge will apply this is dependant on the distance from ourselves, to calculate postage for your area, please select your items and proceed to checkout and your postage will be calculated before you make payment once your postcode has been entered.
More helpful information

Please ensure you provide us with a contact telephone number as this may delay your delivery being shipped by the courier as they may need to contact you to arrange delivery.
Ideally please provide a delivery address, landline number and a mobile number, we will also email details about your order and delivery. Please check you have entered your email address correctly.

The delivery service is a "green service", based on consolidating deliveries within the same area. Delivery will be a lot faster to highly populated areas, and the innermost parts of the country and maybe slower to the more remote regions as mentioned above.
If you are not able to be in to take delivery, you can request the item be left with a neighbour or in a safe place of your choosing. If none of these options are suitable, delivery can be rescheduled for when our driver next visits your area, please allow longer in these cases.


QUERIES
If you require any further clarification of any of the above information, please do not hesitate to call us on 01302 741007 or email us at customerservices@florafurniture.co.uk